Introduction: Reel cables are cables that provide power, control power, or control signals for large mobile devices. The products are widely used in heavy machinery such as ports, cranes, and other similar conditions. The outer jacket of cables is processed with NBR. Customized, with excellent flexibility and resistance to bending, easy installation and installation, stable performance.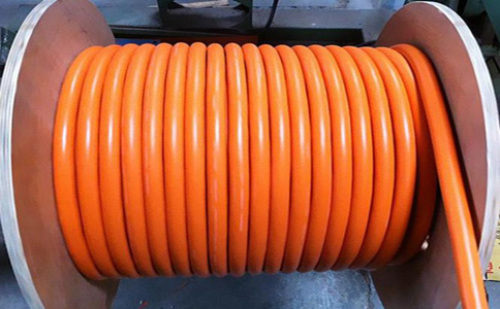 Crane reel cable is characterized by anti-dragging, low temperature resistance, high temperature resistance, oxidation resistance, and aging resistance. It is a must-have cable for the crane industry. Crane reel cable can be based on user requirements, provided parameters, operating temperature, etc. In addition, the cable manufacturing raw materials are selected from the import, the product's technology or materials can be comparable to imported cables, performance is extremely excellent, long service life.

basic introduction:

Reel cable is a power cable for large mobile devices to provide power, control power or control signals, products are widely used in major ports, cranes and other similar conditions of heavy machinery and equipment, cable outer sheath using NBR rubber processing custom It has excellent elasticity and bending resistance, convenient installation and installation, and stable working performance.

Use environment:

Crane reel cables are suitable for port machinery equipment, portal cranes, container cranes, ship loaders, tower cranes, shipbuilding industry, gantry cranes, metallurgical equipment, towline systems, railway construction, aerospace industry, power plants and various mobile devices occasion.

Features:

It has excellent resistance to drag and oil resistance and wear resistance. It can be used for indoor or outdoor installation and installation. The cable has a long service life, low temperature resistance and high temperature resistance. It can be used in low temperature applications of -15 degrees, and the cable still has excellent elasticity and flame retardant properties.

Cable structure:

Conductor: The conductor is made of strands of fine non-oxidized bare copper wire braided and twisted. It has excellent electrical conductivity and bending resistance.

Sheath: The sheath is made of imported NBR rubber material and has the advantages of resistance to drag, oil, and low temperature.

Insulation: Insulation uses flame-retardant and fire-retardant PVC insulation material with excellent electrical insulation properties. Long-term use of the cable will not cause electrical leakage and fire.

Bearing parts: crane cables are generally double steel wire or single wire rope as bearing elements, and special specified requirements can be customized according to customer requirements.

Core color: core color: black, brown, blue, red, white, purple, etc., can be customized

Sheath color: The conventional drum cable sheath is black, but can also be customized according to customer's equipment and requirements.